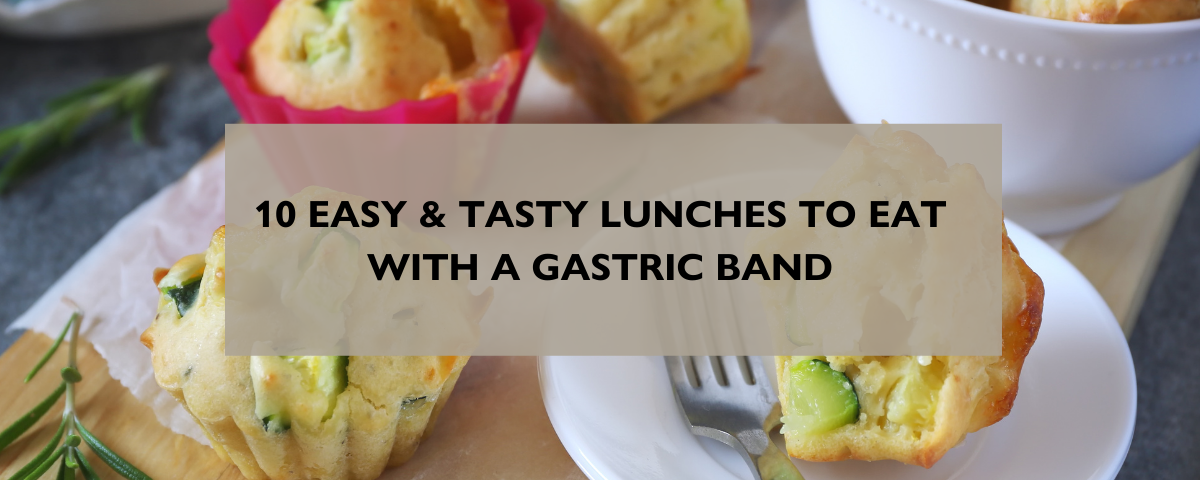 There's a mistaken belief that gastric bands make your diet overly restrictive. In fact, you'll get more enjoyment out of savouring each and every bite of delicious and nutritious food as well as those occasional treats along the way. Shifting to a gastric band (or sleeve) lifestyle, especially in the early stages, takes significant physical and mental adjustment. In the two weeks leading up to surgery, you will be on a very low-calorie diet (VLCD). Immediately after surgery, you will go onto a liquid phase for two weeks, then a puree phase for two weeks. After that, you can transition to soft solids for two weeks e.g. casserole, slow-cooked meats, eggs, well-cooked vegetables.
Finally, after all your hard work, you are ready to transition back to solids. As your stomach is a smaller size, your portion size should be approximately between ½ – 1 cup, depending on the food. The important thing to remember is to eat slowly so you recognise when you are full.
Your post-surgery dietary recommendations aren't just to ensure you don't overfill your smaller stomach but form part of your overall lifestyle shift to a wider variety of both wholesome and enjoyable foods. Whether or not you are new to the gastric band or LAP BAND® lifestyle, we've put together 10 easy, satisfying and delicious lunches that will deliver plenty of protein, fibre, goodness and most importantly, taste!
1.     ZUCCHINI MUFFINS
Make a batch of these in advance for an easy lunch on the go!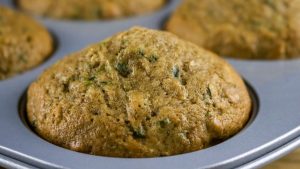 340.2 g zucchini grated (2 packed cups)
1/2 cup butter or dairy-free margarine melted
6 eggs (flax eggs for vegan option)
2 tablespoons oregano finely chopped
1 teaspoon baking powder
3/4 cup coconut flour
1 cup grated cheddar cheese grated
Salt & pepper to taste
Preheat oven to 180C. Mix zucchini, butter, salt, pepper and mix. Then add eggs, oregano and baking powder and mix well. Finally, add the coconut flour and mix until thick. Fold through cheddar cheese and add the mixture to a lined or silicone muffin tray. Fill each hole as they won't rise much. Bake for 25 minutes until golden.
2.     CHICKEN SALAD CUPS
Buy a pre-roasted chicken from the supermarket for an even easier recipe. This recipe easily makes enough for multiple lunches.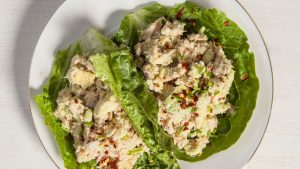 Iceberg lettuce leaves, washed
Pulled/shredded whole roasted chicken (skin off)
2 tablespoons whole egg mayonnaise
2 tablespoons mustard of choice
Handful of chopped fresh parsley
¼ teaspoon diced garlic
Sliced green onions to season
Method: Lay out the washed lettuce cups. Mix together the rest of the ingredients in a bowl until the chicken is well coated. Spoon into lettuce cups and top with green onions.
3.     HAM & CHEESE WRAPS
Method: These are so easy to make and high in protein while the cheese adds calcium. Simply take your favourite bendy cheese such as swiss cheese or Jarlsberg, lay flat with a slice of lean ham, and roll up! Add some slaw or Asian greens on the side for a bit of crunch.
4.     EGG ROLL IN A BOWL
Although it takes a bit of prep, this protein-rich bowl has all the flavours of your favourite egg roll without the deep-fried carbs and will see you through several tasty lunchtimes.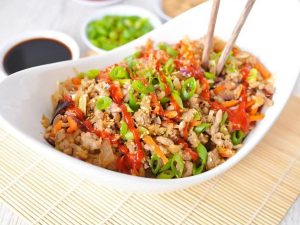 500 grams ground pork or beef
1 teaspoon minced garlic
2 cups shredded cabbage or coleslaw mix
1/4 cup low-sodium soy sauce
1 teaspoon ground ginger
1 whole egg
2 teaspoons sriracha
1 tablespoon sesame oil
2 tablespoons sliced green onions
Method: In a large sautee pan on medium heat, brown the pork or beef until no longer pink. Add garlic and mix in. Then add the cabbage/coleslaw, soy sauce, ginger and sautee another 10 to 15 minutes. Add a little extra hot water if you need to cook the cabbage more. Take off heat. Stir in sriracha.
Top with soy sauce and sesame oil.
5.     BEST EVER TUNA SALAD
Once you've tried this zingy tuna combination, you'll wonder how you survived without it.
The family can also use this on sandwiches,  but you won't want to share it.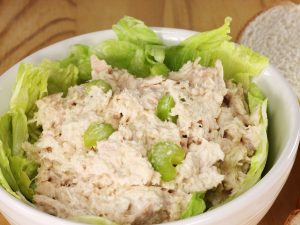 425g can of tuna in brine or springwater
1/2 red onion, finely chopped
3 whole dill pickles, finely chopped
2 celery sticks, finely chopped
3 tablespoons whole egg mayonnaise
Handful of parsley, chopped
Salt and pepper to taste
Cos lettuce leaves to serve
Method: Place washed lettuce leaves on a serving plate or in a lunch container. Shred tuna into a mixing bowl using a fork. Stir through all other ingredients until well-blended. Spoon onto lettuce leaves and enjoy the best tuna salad ever.
6.     PICK & EAT PLOUGHMAN'S LUNCH
Enjoy the classic staples of a ploughman's lunch and simply replace the bread with extra veggies for a fibre boost. This is a fun and easy way to use fridge leftovers as well.
Gourmet cheddar cheese slices
Slices of cold roast beef or ham
Hardboiled eggs
Pickled onions or gherkins
Celery sticks
Carrot sticks
Cucumber sticks
Cherry tomatoes
Method: Pack ingredients into compartment lunchbox or arrange on a plate. Done!
7.     EASY CAPRESE SALAD
This ridiculously easy and elegant salad is like a mini Mediterranean getaway with plenty left for a side with dinner.
3 sliced truss tomatoes
225 grams sliced fresh, soft mozzarella – Buffalo if possible
Fresh basil leaves
Extra virgin olive oil for drizzling
Balsamic glaze for drizzling
Take the sliced ingredients and basil leaves and alternative in layers until ingredients are used. Drizzle lightly with olive oil and balsamic glaze.
8.     GREEK BOWL
Refreshing and bursting with flavour, you can also add your choice of herbed and grilled meat for a souvlaki style lunch.
A little goes a long way.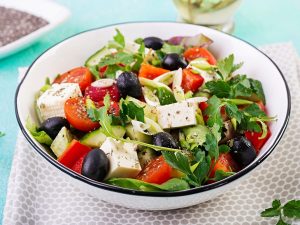 1 cucumber, cubed
2 truss tomatoes, diced
½ red onion, sliced in halves
½ cup of pitted Kalamata olives
125 grams of Greek feta cheese, cubed
2 tablespoons tzatziki dip
Salt and pepper for seasoning
Optional: grilled lamb or chicken rubbed in oregano
Simply mix all ingredients together, then stir through tzatziki last until blended. Season to taste.
9.     ONE PAN PESTO MUSHROOMS & SUPER GREENS
Don't have time to make pesto? Don't worry. You can use store-bought pesto and mix it in with lightly fried vegetables for this super green and simple lunch.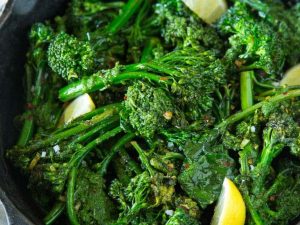 3 tablespoons pre-made pesto
2 brown mushrooms, chopped
½ cup of green beans
3 broccolini florets, chopped
1 medium zucchini, chopped
Parmesan for topping (or nutritional yeast for vegan option)
Optional: 1 egg for frying
Extra virgin olive oil
Drizzle olive oil in a non-stick pan on medium heat. Toss all vegetables in the pan and fry for about 10-15 minutes until greens start to char. Remove and place in a bowl. Add a dash more oil to the pan and fry the egg. While the egg is frying, mix through pesto. When egg is cooked to your liking, place on top and sprinkle with parmesan.
10.  TACO BOWL
A yummy bowl that has everything you love about taco night, and less mess! This recipe makes more than enough for multiple serves too.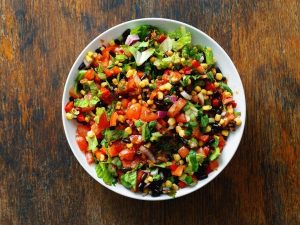 500 grams beef mince
1 cup grated cheddar cheese
2 tablespoons taco seasoning
1 cup drained corn kernels from can
1 cup drained black beans from can
1 small red onion, diced
2 large tomatoes, chopped
Generous handful of coriander, shredded
1 lime, cut into slices
Hot sauce – optional
Brown beef mince on medium heat while sprinkling and stirring through the taco seasoning. While this is cooking, mix the tomato and red onion together in a separate bowl. Mix through the juice of half a lime. When beef is cooked, spoon into a serving bowl and place cheese on top. Arrange corn, black beans and tomato/onion mixture to your liking. Garnish generously with coriander and serve with lime wedges. Add hot sauce if you need your chilli hit.