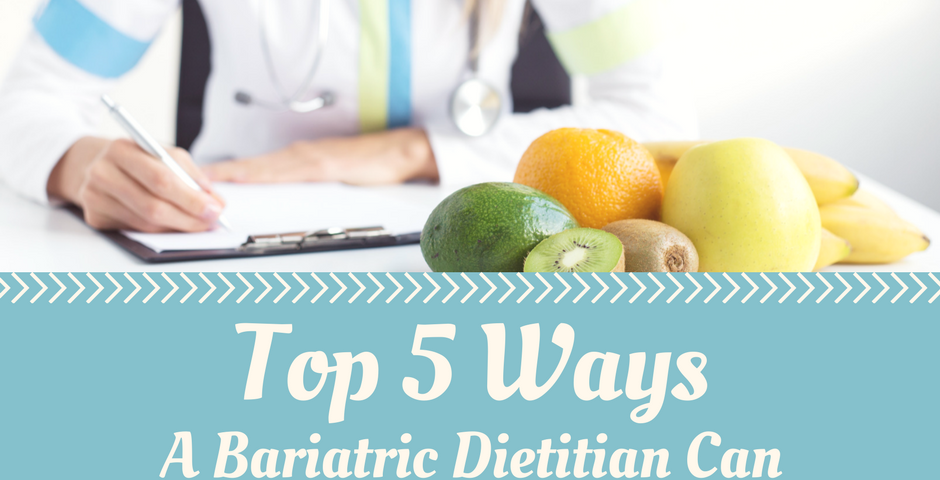 Top 5 Ways A Bariatric Dietitian Can Change Your Life
Keeping up regular visits to the dietitian after weight loss surgery may not be high on your priority list, but it should be. Here's 5 compelling reasons why:
Add Variety To Your Diet
Tired of the same boring meals everyday? Unfortunately a diet built on shakes, coffee, soups and sweets is a common trap to fall into after weight loss surgery. If you don't confidently work your way through the post surgery transitioning stages, you can easily find yourself stuck on liquids and mush, too scared to try anything more challenging.
A bariatric dietitain can help you to add a range of new and tasty meals to your diet that are not only suitable for weight loss but also for eating comfortably with a gastric band. They can work with you to build confidence eating solid foods again, giving you tips and ticks to manage difficult items like steak, salad and vegetables, just to name a few.
Give You More Energy
Feeling tired, worn out, lethargic and unmotivated is often the result of malnutrition. Getting enough nutrients to meet your daily requirements everyday is really tough. Three tiny meals do not leave much opportunity to eat a days worth of nutrients.
A bariatric dietitan can plan a menu and supplement regime that shows how to easily meet your nutrition requirements everyday. When your body is well nourished, energy levels will increase, mood will improve and weight loss results are better.
Make Eating Out A Breeze
The number 1 area that people struggle to manage after weight loss surgery is eating out. What to choose, what to do if food gets stuck, how to manage a glass of wine with the meal, how to cope when last to finish and what to say about the huge plate of leftovers. These are all real concerns for many people heading out to a meal with a gastric band.
Eating out doesn't have to be a stressful, anxious experience. In fact, it can and should be just as enjoyable as it was before weight loss surgery. A bariatric dietitian can help you to enjoy eating out again. They can teach you the skills you need to be confident and succeed at having a great time eating out.
Stop Non-Hungry Eating
Is your afternoon sweet treat or after dinner snacking stopping you from reaching your weight loss goals? There is a solution! Non-hungry eating is always driven by habits, and with the right support all habits can be broken.  A bariatric dietitian doesn't only write menu plans and calculate your nutrient requirements. Many are also expertly trained and highly experienced in teaching mindful eating practices that can help to conquer non-hungry eating forever.
Lose More Weight & Reach Goal Weight Faster
When losing weight, there are going to be times when you will hit a wall. Despite your best efforts, weight loss just stops and during these times, motivation can plummet. To prevent weight regain it is important to catch and address these moments of relapse quickly and efficiently.
A bariatric dietitian will often be able to recognise these moments before you do. That way, you can get a plan put into place before any problems start. Your dietitian will be able to write a plan that suits your needs and get you back on track quickly.
It has been proven that dietary and lifestyle changes that are made when facilitated by a bariatric dietitian result in better weight loss outcomes than when attempted alone.
A bariatric dietitian is a great support person to have on your team. You can rely on them to never judge you or your decision to have weight loss surgery.
Losing weight is not something anyone can do alone so the more people you have on your support team the better the outcome will be for you.
To find a specialist bariatric dietitian near you, visit: http://www.ossanz.com.au/find_dietitian.htm